Brand Strategist Consultant: (Project Based)
Tandem is looking for a Brand Strategist Consultant to work on a long term high-end branding project. 
-    Project Kick off meeting – Initial meeting with the client to discuss project details and timeline.
-    Work with the client to identify and engage a project steering committee
-    Request informational material and research to support the project design 
-    Schedule meetings and interviews with internal and external stakeholders to understand current brand  positioning and perception
-    Define/Refine the brand values and mission statement 
-    Clarify business goals and branding objectives
-    Meeting to endorse plan with the client 
2-    Develop and Submit Brand Report to include:
-    Proposed brand vision and mission
-    Brand matrix: key messages to support the launch campaign
-    Brand promise and value proposition 
-    Profiles of targeted audience and its top concerns 
• Top-notch written and verbal communication skills (English and Arabic)
• Experience identifying meaningful insights with a past record of successful brand or campaign launches
• Comfortable with all aspects of primary research: planning, planing interviews, screening, facilitation or moderation, reporting
• Fmiliar with statistics and research analysis
• Aware of the ongoing trends of the market
• 5 to 10 years experience in the field of marketing and branding
Deadline for applying Monday 5th June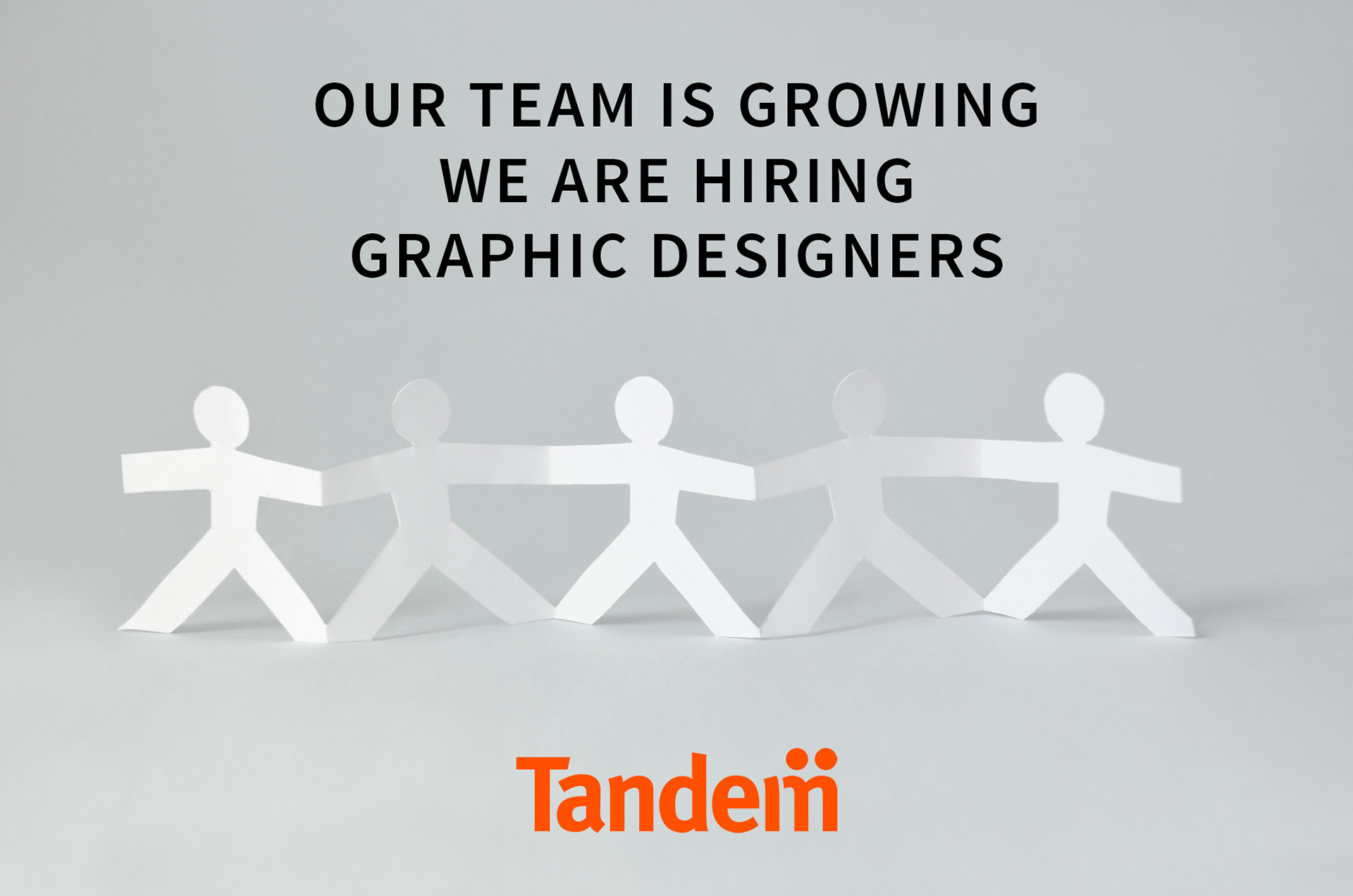 Graphic Designer: (Full time)
Tandem is looking for a full time 
Graphic Designer
to work independently or part of a team on design projects from concept to execution under the directions of the creative director and the project manager. Candidates should be passionate, highly responsible and meticulous. If you think you are qualified, then we would love to hear from you! 
• Think creatively to create new ideas and concepts for branding, layout and web-design projects
• Prepare Concept Presentations 
• Produce physical mockups (maquettes) 
• Produce the final design files and give specs to printers or developers
• Periodical update of social media and websites posts
• Art education background is a must
• Self motivated, highly responsible and proactive
• Must be proficient in CS (inDesign, Photoshop, Illustrator) 
•  Must have a strong understanding of branding 
•  Good experience in print design
•  Strong layout and design skills
•  Good knowledge of typography rules and techniques
•  Knowledge of web design basics is a plus
•  Able to manage time and resources efficiently
•  1 - 3 years experience
Zipped portfolios will not be considered.